Module 1
Product knowledge
Austrians enjoy around 20 kg of apples every year, about 180,000 tons are harvested in Austria, about 80% of them in Styria.
The homegrown apple not only contains many valuable ingredients, but also bears a lot of exciting stories.
The renowned experts DI Jürgen Wieser, DI Dr. Gottfried Lafer and Mag. Regina Lind provide expert information on where the favorite apple of the local households originally comes from, how it came to Europe and Austria – and in which regions it is cultivated.
In addition, there are topic-specific focus areas on variety, fruit ripeness, fruit quality, as well as the quality classes formulated according to EU guidelines and the premium qualities of various retail chains.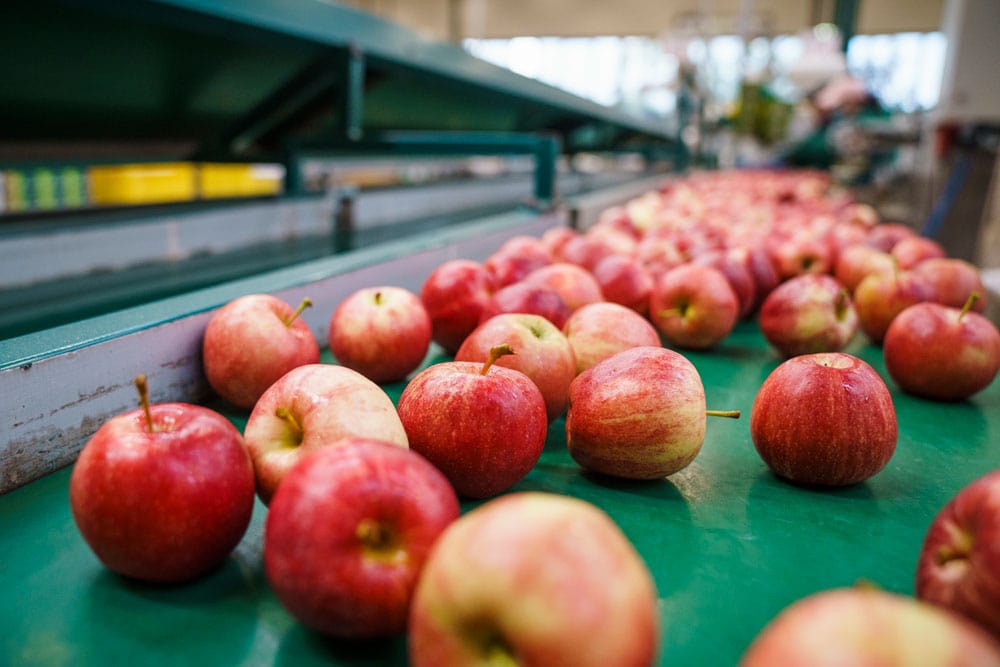 Motivation in the fruit & vegetable world
EXCITEMENT is contagious! How this - besides love - probably most pleasant, emotional "virus" is transferred to your life and how you can also transfer it to other people, is what you will learn from Dr. Michaela Ritter. Of course, the expert also reveals the pleasurable contagion that can come from high-quality fruits & vegetables. After all, the desire and openness for new flavors in nutrition are undoubtedly the right travel provisions for enthusiastically embarking on new paths in life. Whether at work or in your leisure time. "Motivation in the fruit & vegetable world - Self-confident "ME" as the "key to success" offers you a motivational boost for more enthusiasm in life. Let yourself be infected!
As the most important part of the organic soil substance, humus forms the foundation of plants and thus the basis for our nutrition. It is the intact interplay of "organic substances", "clay minerals" and "microorganisms" that enables us to achieve sustainable plant production and sustainable nutrition over generations and centuries.
It is in humus that the concept of sustainability is reflected in all its interesting facets: for example, humus-rich soils worldwide store and bind large amounts of CO2 that would otherwise be released into the atmosphere and accelerate climate change. Worldwide, this life-saving CO2 storage is estimated at 1,600 billion.
Starting with humus and its great importance for agriculture, experts Joachim Ninaus, Michael Eder and Gerald Dunst will take participants on an exciting journey of discovery to a new, sustainable way of thinking about society. How does the CO2 cycle work? – What do we need to do to develop a sustainable society? – What climate protection measures can we take with our food? – These and many other questions will be answered by the experts sustainably.
"It is time that we adapt nutrition to the needs of people and not vice versa" – says the internationally renowned physician Prim. Dr. Meinrad Lindschinger of the "Institute for Nutrition and Metabolic Diseases". In fact, the traditional nourishing way from the last century can not be followed any longer with the requirements of a modern like sex-specific nutrition. With its pioneering nourishing concept functional eating® Prim. Dr. Meinrad Lindschinger sets completely new accents for a contemporary nutritional awareness. 
Depending on the life situation and individuality, the body receives exactly those nutrients that it really needs.
In addition to a profound basic knowledge of nutrition adapted to needs, you will also learn in this course the valuable additional benefits of fruit & vegetables, the different nutrient densities in different foods and much more. In short: functional eating® is the best thing that could have happened to nutrition – Come and take an important, big step towards a contemporary, individual diet.
A healthy, needs-based diet is not only becoming increasingly important in the food trade, but also has a firm place in the nutritional awareness of more and more customers.
Strengthening this nutritional awareness and deepening it with expert knowledge is one of the tasks of the dedicated food trade, and is the goal of the workshop with dieticians Petra Pendl and Monika Wilfling from the Institute for Nutrition and Metabolic Diseases.
The shopping behavior and nutritional habits of modern customers will be discussed in detail. The workshop will also take a closer look at the target group-specific purchasing behavior of "female", "male", "child" and "adolescent" customers.